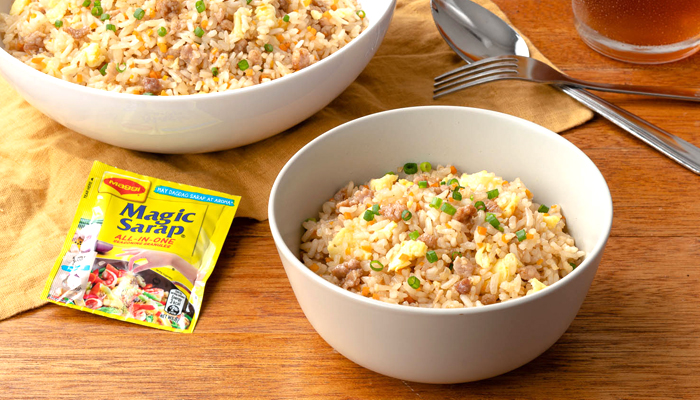 1 sachet 8g MAGGI® MAGIC SARAP®

1 pc small onion, chopped

100 g freshly ground pork

1 pc small carrot, chopped

2 tbsp MAGGI® Oyster Sauce

1 tbsp sliced spring onion
Heat 1 tbsp of oil in a pan, pour beaten egg and cook until barely set. Remove and set aside.
Sauté garlic, onion, ground pork and carrot in remaining 1 tbsp of oil. Pour water and MAGGI® Oyster Sauce.
Add rice and season with MAGGI® MAGIC SARAP®. Pour 2 tbsp of water on the side, add scrambled egg and gently fluff until steaming hot. Transfer on a serving plate and serve immediately.
Nutrition Information
Total fats (g)

9.70781 Grams

Proteins (g)

5.88684 Grams

Total Carbs (g)

8.87008 Grams