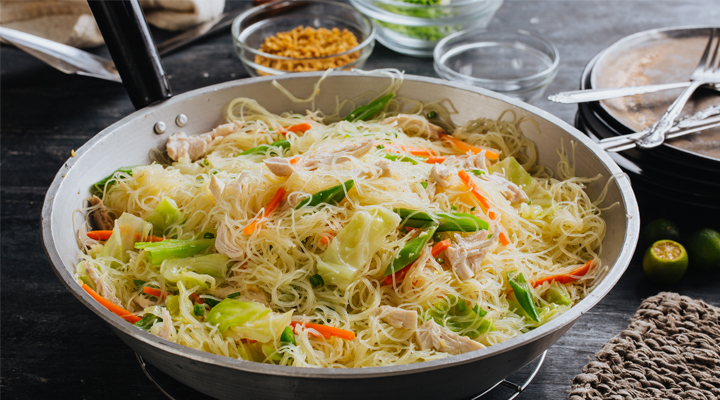 2 pcs boneless chicken breast

2 Tablespoons Canola And Corn Oil

1 pc small onion, julienned

2 sachet 8g MAGGI® MAGIC SARAP®

¼ tsp freshly ground pepper

150 g bihon, soaked in water

1 pc carrot, cut into strips and blanched

1 cup sliced green beans, blanched

1 cup sliced cabbage, blanched

2 tbsp sliced spring onion
Sauté garlic and onion in oil. Pour broth, simmer and season with MAGGI® MAGIC SARAP® and pepper.
Drain bihon and stir in the broth. Cover and cook for 5 minutes.

Shred cooked chicken. Stir in chicken and vegetables in the noodles. Transfer on a serving plate and garnish with spring onion.

Simmer chicken in water for 10 minutes. Set aside the chicken and reserve the broth.

Nutrition Information
Total fats (g)

7.39989 Grams

Proteins (g)

23.9922 Grams

Total Carbs (g)

29.0462 Grams